C

HARITY DINNER PUTS THE 'HEART' INTO BUSY MARKET TOWN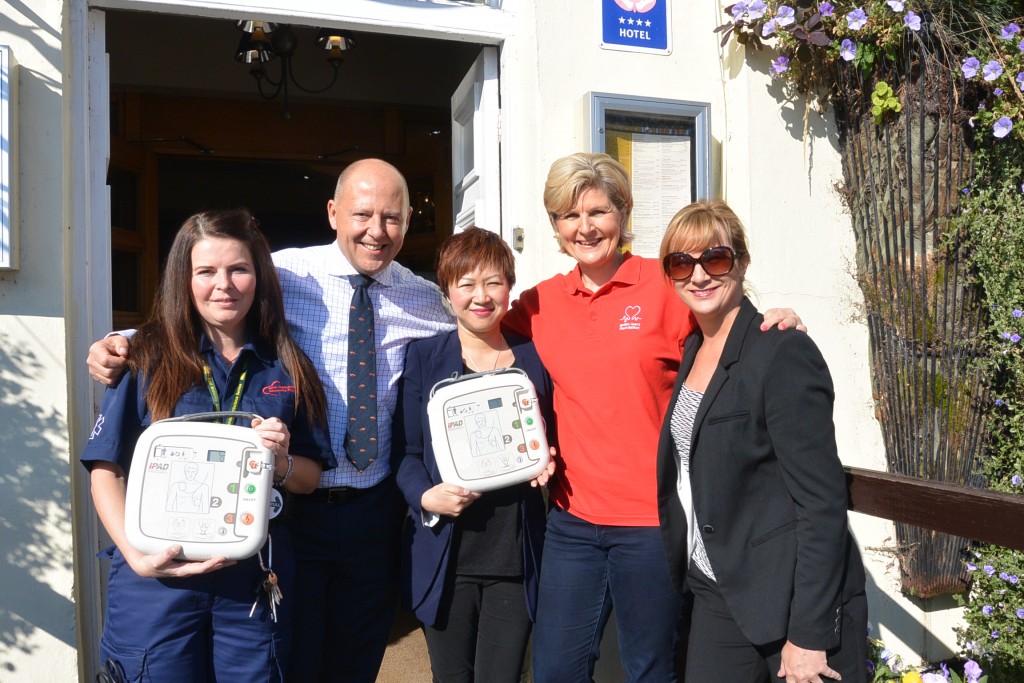 An annual dinner to celebrate the start of Doncaster's iconic St Leger Festival has once again triumphed by tripling the number of life saving defibrillators in a busy market town.
The charity dinner, held at the popular Crown Hotel in the town, raised £5,415. Organisers decided to use the funds to purchase two further defibrillators to ensure everyone in the town had easy access to the life saving equipment. The balance of £3,181 has been donated to the Bawtry and Doncaster branch of the British Heart Foundation (BHF). The BHF is committed to make the UK a Nation of Lifesavers through investment including providing free CPR training kits to valid applicants from the local area.
"We were delighted that this year's event raised such a terrific amount and are so pleased to invest in the health and wellbeing of residents and visitors to the town," said Craig Dowie Managing Director Crown Hotel and member of Bawtry Retail Association. "Thanks go to everyone who attended and gave so generously allowing us to make a real difference to Bawtry townsfolk as well as a sizeable donation to the local branch of BHF."
One defibrillator is already held at the Crown Hotel and the newly purchased ones will be held at Mayflower Primary School and one of the busiest restaurants in the town China Rose ensuring all areas of the town are covered should the need arise.
"We were delighted to be able to respond to a social media request from a local Community First Responder, Patricia Knighton and mum of six children who have all attended, or are still attending, Mayflower Primary School in Bawtry," said Rebecca Dickenson Chair Bawtry Retail Association. "We will now also be organising training for all staff at the two new locations to ensure we are able to deliver excellent and speedy care to anyone who may need such treatment."
Over 500 public access defibrillators are located across South Yorkshire and, whilst training is not necessary, it boosts operator confidence to help survival rates of person's who have a cardiac arrest.
Further information can be found at https://www.bhf.org.uk/heart-health/nation-of-lifesavers/about-defibrillators/apply-for-a-defibrillator-in-england
Bawtry Retail Association (BRA) is a member organisation of businesses and retailers in the town. They work together to promote the town, attract visitors and business investment and host a calendar of events throughout the year.
The town's retailers range from designer clothing boutiques for all the family, art galleries, gift shops, home accessories and specialist food outlets.
Further information regarding Bawtry Retail Association (BRA) is available on its new website – www.visitbawtry.com.
Bawtry Retail Association members meet bi-monthly at The Crown Hotel in Bawtry. Further details regarding membership can be obtained by emailing becky@the-vanilla-rooms.com.
PICTURE CAPTION (L to R):-
Patricia Knighton North Nottinghamshire Community First Responder & representing Mayflower Primary School, Craig Dowie Crown Hotel Bawtry, Carly Hui China Rose Bawtry, Emma Gosling Member of the Bawtry & Doncaster branch of the BHF and Paula Wigglesworth Crown Hotel Bawtry